19 Oct

'Tis the season for symbolism and birdwatching

Upeart Festival 2019 decorated Karakallio with three murals from two artists. In addition to new art, it's not all quiet on the workshop front either: The traffic sign workshop of Karakallio Creative invites everyone to create symbolistic art on Saturdays this fall.

Bird sightings in Karakallio

A majestic osprey has been spotted on Kalasääksentie! The osprey, or the river hawk – whichever you want to call it – watches over its territory, paying no mind to the chilliness of the fall weather. The usually migratory bird ditched warmer climates this year and soared over to Karakallio to stay, painted by the artist Jussi TwoSeven.
Upeart Festival 2019 brought spectacular festival art into three walls in Karakallio. Pixel Pancho's ode to nature, titled 'Winter is coming. Time to migrate again.', which was completed in September, was joined by a diptych playing with dichotomies by Jussi TwoSeven.
Jussi TwoSeven 'Pandion Haliaetus'

'suteailaH noidnaP', Espoo, 2019.
The stunningly gorgeous set is aptly titled 'Pandion Haliaetus | suteailaH noidnaP', and it has been painted in the stencil technique characteristic for the Helsinki-based artist. The pair of murals fills both of the end walls of the apartment building at the address Kalasääksentie 8.
Signs of winter aren't the only signs we're seeing this November
What is allowed in your living environment? What do people need to consider or look out for? What would you like to signal to your fellow citizens in the public space?
Come design your own traffic signs! The traffic sign workshop by Karakallio Creative dives into the fascinating world of symbolism with the guidance of artist Aku Aalto.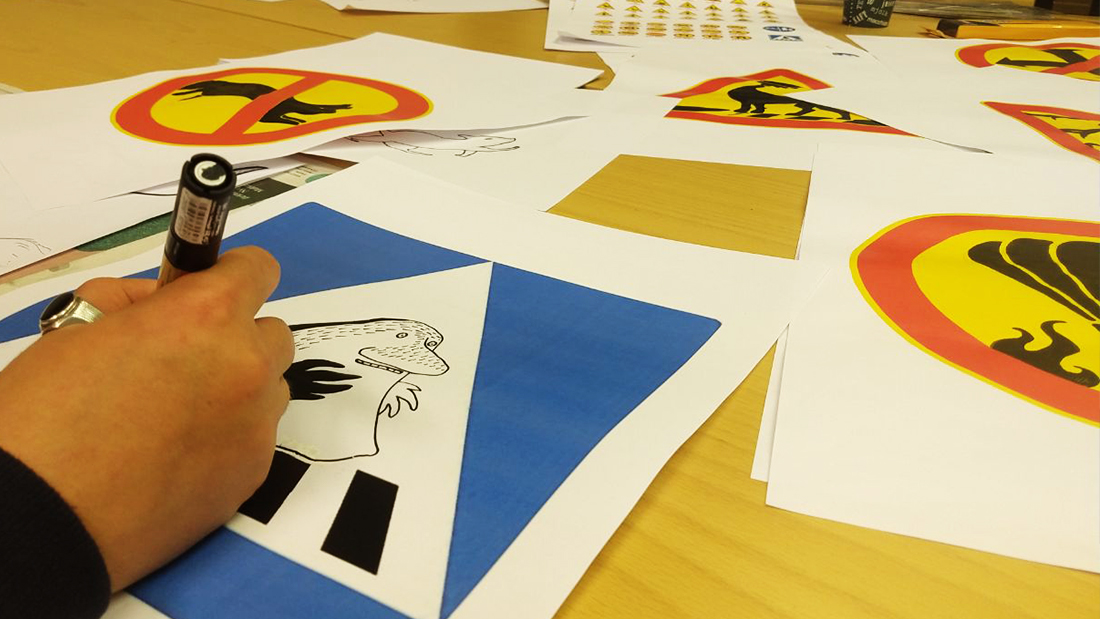 During three workshop afternoons, you'll get to design symbolic images that people are definitely not used to seeing on regular traffic signs! The instructor will help with using the materials and coming up with fun ways to get your message across with symbols. When the workshop series is complete, some of the finished pieces will be chosen for post-editing and made into real signs that will be placed around the Karakallio area.
No signup needed, you only need to show up! The workshop is free of charge and open to everyone. It takes place in the Karatalo community center (Kotkatie 4) on 10/26, 11/9, and 11/23 from 1 p.m. to 4 p.m. Welcome!
You can also join the Facebook event here!