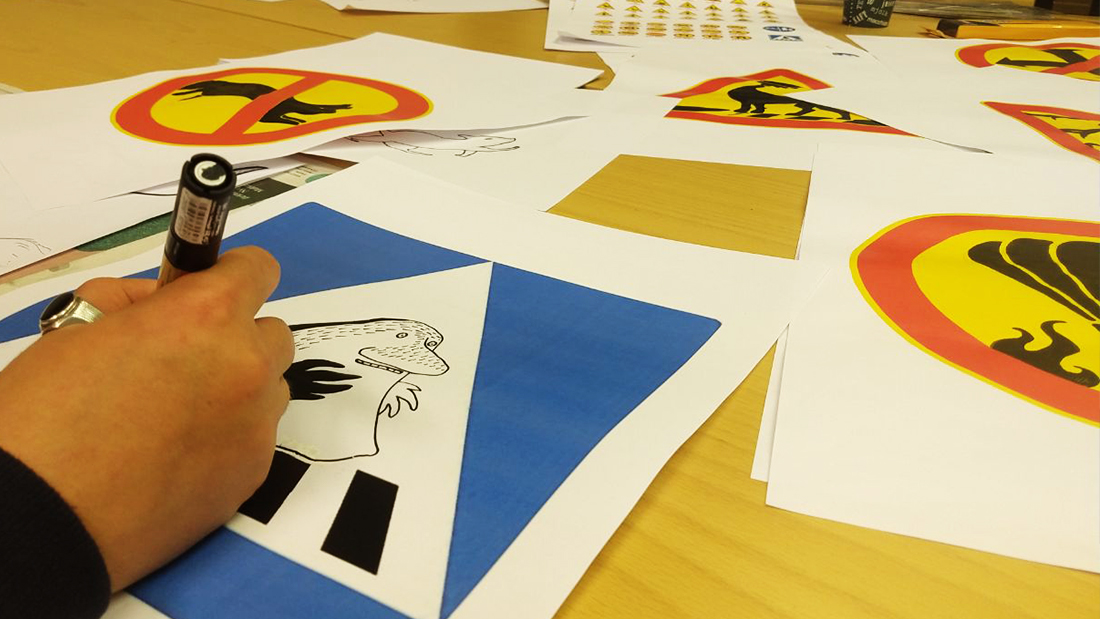 06.11.2019

Getting creative with traffic signs!

The traffic sign workshop by Karakallio Creative is in full swing! The second installment of the three-part workshop series will be held next Saturday, 11/9, at the Karatalo community center. In the workshop, you'll get to design fun and creative traffic signs, the likes of which people are definitely not used to seeing!

What is allowed in your living environment? What do people need to consider or look out for? What would you like to signal to your fellow citizens in the public space? Put on your thinking cap and head to the workshop to turn what's important to you into pictures and symbols in order to create easily understandable traffic signs. The instructor of the workshop, artist Aku Aalto, provides help with using the materials and brainstorming interesting ideas for signs.

There is no speed limit in this workshop: enthusiastic traffic sign designers with a need for speed will have enough time to create several pieces, whereas those of us who are in no rush can put all their effort into one design. When the workshop series is over, some of the finished pieces will be chosen for post-editing and made into real signs that will be placed around the Karakallio area!

The workshop series is free of charge and open for everyone, and you can participate as many times as you like. The next installment takes place in Karatalo (Kotkatie 4) on 11/9, from 1 p.m. to 4 p.m. No signup needed. The third and last part of the series will be held on 11/23. Welcome! You can also join the Facebook event here.

Information on previous and upcoming workshops by Karakallio Creative can be found in our workshop portfolio. There have been all kinds of fun and interesting projects, and more will come!