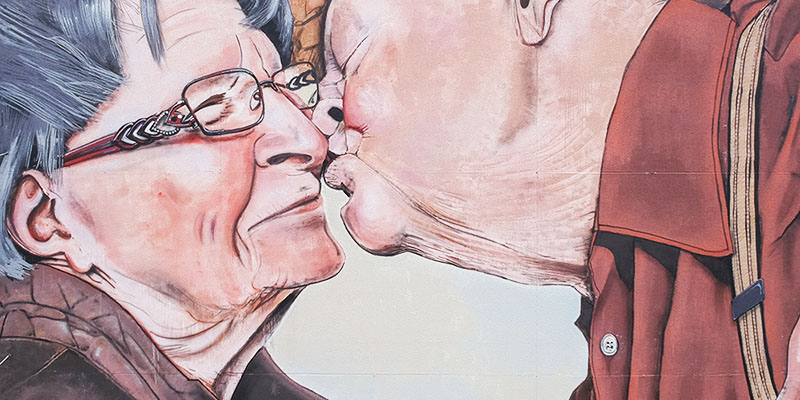 12.03.2018

Karakallio soon-to-be the most interesting and the most urban suburb of the City of Espoo

People appreciate art in their environment. The survey done by TNS in 2016 showed a strong support for public art. Even 75 % of Finns want public art to their environment. Art increases the attractiveness of the area and enlivens the neighborhood.

The philosophy of Upeart collective is that art belongs to everyone. By bringing art outside the museums and art galleries it becomes a natural part of our everyday life.

Professional artist Teemu Mäenpää accomplished a public artwork to Karakallio during UPEA17-festival. The implementation of the work was exceptionally holistic. At first, Mäenpää moved to Karakallio for a week on purpose to get to know the residents and to absorb the atmosphere of the area. By exploring the area Mäenpää met this one couple, Esko Ketola, 85, and Ritva Ketola, 83. He captured their kiss into a photo and then into a large mural painting on the wall of the apartment building the couple lives.The mural Teemu created tells a story about love which has been present in the building since its construction (over 50 years!).

The piece has received a positive reaction among the locals and widely elsewhere. Karakallio residents celebrated the completion of the artwork by organizing a ceremony. One of the main goals of Karakallio Creative project is that art offers a natural platform for communal and participatory activity.

The City of Espoo and Upeart collective are collaborating in purpose to refine the idea of a creative, unique and humane residential area; Karakallio Creative is the outcome that will concretize these dreams.

Let's look ahead to the future from Karakallio Creative point of view:
A bunch of friends are enjoying a picnic outside on top of a colorful and multi-dimensional artwork. The artwork brochure says that the piece is located in the Art Boulevard and it is a participatory art installation. The art in the area inspires people of all ages; the kids on their way to school are wondering the impressive mural, an older couple sits outside their house discussing the façade sculpture of the opposite building, the young families of the neighborhood have gathered in the park beside the light artwork. The annual art day gathers art inspired people to explore both permanent and temporary artworks and to enjoy the unique atmosphere of the area. In Karakallio creativity is almost tangible.

This is the future Karakallio. The most urban, the most humane and the most interesting neighborhood of Espoo.